From: REal Clear Politics
As the seemingly interminable recount for a Wisconsin Supreme Court seat drags on (as of May 9, incumbent Justice David Prosser's edge had declined slightly to 6,977 votes), attention continues to turn to the summer recall elections in the state Senate. Democrats have succeeded in obtaining the required number of signatures to challenge six Republican state senators. Republicans have gathered enough signatures to challenge three sitting Democrats. This means that almost every potentially competitive Senate seat will see a recall election this summer, and Republicans still have a few more days to turn in petitions for one final seat.
I had previously been skeptical that Democrats would be able to take over the state Senate this summer. I'm still skeptical, though less so than before. Two things have improved prospects slightly for the Democrats.
First, Wisconsin held three special elections in the General Assembly (the lower chamber of the Wisconsin legislature), all in Republican seats. Two were heavily Republican, and the Republicans held them easily. But a third was a bit of a swing district. The Democrats picked up this seat, located in the western portion of the state, by a 54-46 percent margin.
The following table shows the six Republican (red) districts and three Democratic (bright blue) districts that are now scheduled for recall elections. It shows Republican performance in the districts in the 2004 presidential race, the 2008 presidential race, the 2010 gubernatorial race, and the 2011 Supreme Court runoff. The districts are sorted by average Republican performance across these four races. Assembly District 94 -- the swing-ish district that Republicans lost, is shaded pale blue.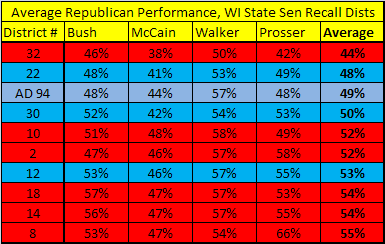 As we see, this alone isn't a huge cause for celebration for Democrats. Although Republicans had held the 94th District for some time, it actually leans a few points toward the Democrats. Justice Prosser actually lost the district, suggesting that Governor Scott Walker's agenda really is unpopular here.
More importantly, it is more Democratic than all but one of the Republican districts that are subject to recall elections. The Democrat ran three points ahead of the typical Democratic performance here; if that trend held across the six Republican seats, Democrats would pick up exactly three seats, and have a very tight race in one of their own.
But that three-point edge is unlikely to hold up. A Democratic win in the 2nd Senate district seems unlikely; Prosser won 58 percent of the vote there, suggesting that Walker's agenda is actually reasonably popular. More importantly, this was an open seat. Running against an incumbent is typically much more difficult, especially in smaller districts like these where members can really practice retail politics and get to know their constituents. As we'll see in a second, this actually hurts Republicans on balance, who have had recruiting woes, but it has affected Democratic prospects in a few places as well.
The Democrats' win here does confirm that Dan Kapanke in the 32nd District is in deep trouble – Assembly District 94 is in his district, and is actually the most Republican of the three Assembly districts that comprise Senate District 32. He might even be considered an underdog at this point. It also suggests that Sheila Harsdorf's 10th District, located in the western portion of the state (which swung heavily against Prosser) and only a touch more Republican than Assembly District 94, could be competitive if the Democrats' inexperienced candidate catches fire. Combined with Randy Hopper's (18th District) personal problems, there's at least a plausible scenario under which the Democrats pick up three seats.
More troubling for Republicans is the relative difficulty they have had finding actual candidates to run in these recall elections. For example, Senator Jim Holperin in the 12th District is easily the most vulnerable of the Democrats being challenged, but local Republicans failed to field a top-tier challenger. The Republican members of the General Assembly from the district opted against angling for a promotion, so Republicans have fallen back on local tea party activist Kim Simac. Republicans did find county officials to run in the 22nd and 30th districts, although these districts are tougher.
Democratic recruiting has met with more success. There have been some misses –Harsdorf drew a recently laid off teacher as her opponent – but half of the Republicans will face members of the General Assembly in their elections, including Kapanke. Whether this suggests an enthusiasm gap developing in these races remains to be seen, but it is a bit surprising that Republican Assembly members aren't more eager to take what amounts to a free shot at a state Senate seat (even if they lose the recall election, they keep their assembly seat).
This shouldn't be taken as "ominous" developments for Republicans – they should still be heavily favored to keep the state Senate. But the Democrats' prospects of winning, however small, have improved in the last few days.